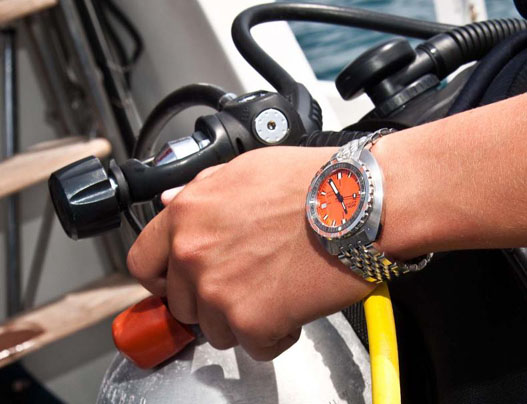 Doxa Sub 1000T Pro, photo by KarlS


Develpment of the Doxa SUB dive watch began in 1964. It was the first watch designed specifically to to be a diver's watch.

In order to create it, Doxa assembled a research team that included a number of professional SCUBA divers, notably Jacques Cousteau and Cousteau's collaborator Claude Wesly (Wesly was the first man to spend seven days living 33 feet under water and the first man to swim across the Mediterranean Sea), to advise and assist their watchmakers.

In order to protect the watch movement and ensure reliability under water, the team created a heavy-duty solid stainless steel case. The dial was designed to be extremely clear and legible, and to have hands and indicators that would glow very brightly in low-light conditions. The watch used the largest amount of glow-in-the-dark material that had ever been used on any prior watch.

To determine what dial color would work best in murky deep waters, Doxa's R&D team ran a number of tests with different color dials—including turquoise, orange, yellow, red, etc.—and discovered that at a depth of 30 meters, the brightest, easiest-to-read dial color was orange.

In order to assist divers in knowing the maximum time they could spend under water while diving, Doxa developed and patented a unidirectional rotating bezel that incorporated the U.S. Navy no-decompression dive table.

Testing and approving of the watch, and specifically of the no-decompression table bezel, was carried out by Cousteau's U.S. Divers Company. The research team at U.S. Divers was so impressed by the watch that they asked to exclusively market it under the name "The U.S. Divers DOXA."

The Doxa SUB 300T was unveiled in 1966 at the Basel watch show and was available exclusively at dive shops.

Two years later, Doxa released the Doxa SUB 300T Conquistador, the first watch with a helium release valve.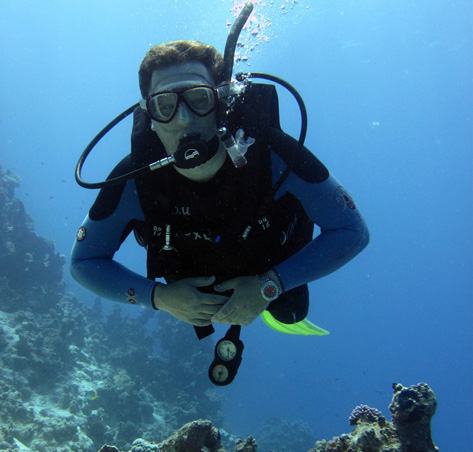 photo by studio808
The DOXA Sub is available only at select diving shops and via the DOXA website.